How to Automatically Track Multiple Shipments
Last modified: 2023-06-10 17:29:00.0
Why is it so hard to keep track of multiple shipments?
Keeping track of multiple shipments is one of the most time-consuming and tedious tasks in the business world. Whether you're an individual online shopper with a love for international e-commerce platforms or a small business owner managing various products, manually tracking shipments can be overwhelming. Constantly having to key in numerous tracking numbers, juggling between different courier websites, and constantly refreshing those pages for status updates can be a logistical nightmare. This struggle is particularly intensified when you have hundreds or even thousands of packages on the move.
What is Inbox?
Inbox is our revolutionary new program, designed to tackle this issue and offer a more streamlined, stress-free approach to shipment tracking. What if we told you there was a tool to automate all that tedious manual work, freeing you up to focus on other aspects of your business or personal life? This is where Inbox excels, turning the chaotic world of multi-shipment tracking into an organized, manageable process.
What features does Inbox include?
Inbox supports many shipping companies, including FedEx, UPS, USPS, and Lasership, providing a single platform to monitor all your packages. But it doesn't stop there. With Inbox, you can update the tracking status for multiple tracking numbers simultaneously, eliminating the need to check each one individually. This bulk updating feature is a massive time-saver and ensures accuracy by reducing the likelihood of human error.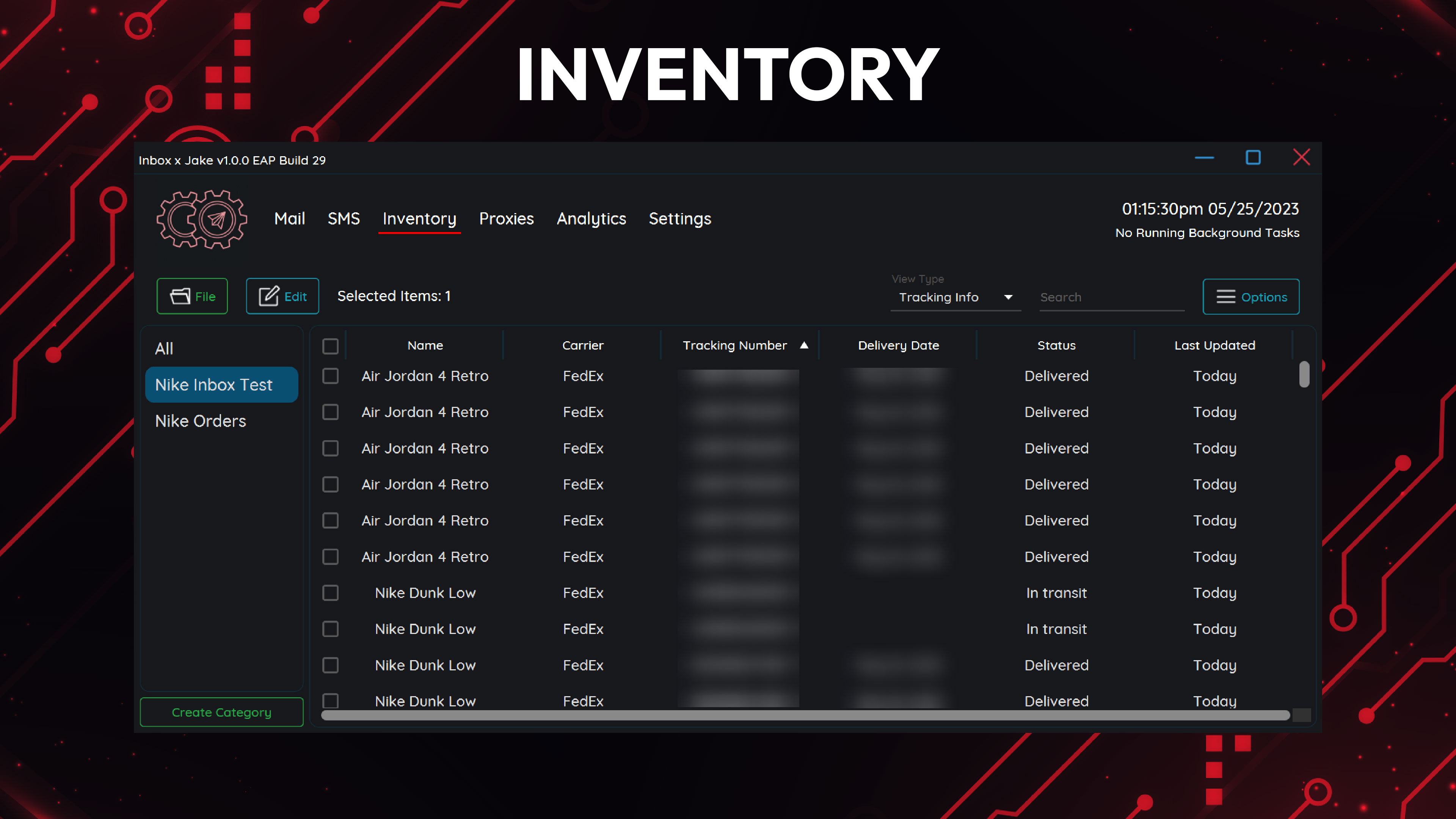 Does Inbox send Tracking Status Notifications?
The beauty of Inbox doesn't end at simply tracking shipments. You'll receive notifications for tracking status updates, meaning you won't have to keep checking the site for updates. Once you've input your tracking numbers, Inbox will automatically monitor the status in the background and send you timely notifications, keeping you informed and never in the dark.

Can Inbox help me stay organized?
Additionally, Inbox allows you to add a personal touch to your shipment tracking process by associating tracking numbers with a Name, Order ID, Custom Notes, Item Cost, Sale Price, and Item URL. This feature offers a seamless way to manage your inventory, providing you with all the necessary information at a glance.
How can I purchase Inbox?
Start by creating an account on our website. After this step, follow this link to purchase the AYCD Toolbox. One of its key features, Inbox, is designed to help you manage bulk shipments and tracking numbers effectively. Be sure to read our extensive guides for maximizing the potential of Inbox. Remember to connect with our dedicated Discord support server post-purchase if you need assistance with the setup. Say goodbye to the daunting task of manually tracking your shipments and hello to an efficient, automated system. With Inbox, you are always one step ahead.
More Content
Learn more about industry trends and AYCD services.
How to Automatically Track Multiple USPS Shipments
Discover how Inbox's advanced Scraper Data and Inventory features can revolutionize your workflow, making bulk USPS shipment tracking more efficient with real-time updates and seamless data migration.
How to Buy the Supreme x WINMAU Dartboard
Explore the captivating history of Supreme and its anticipated collaboration with WINMAU, unveiling an exclusive dartboard accessory set to be a game-changer for collectors and resellers alike.