How to Generate Virtual Credit Cards
Last modified: 2023-03-03 17:21:00.0
What is a Virtual Credit Card?
Are you tired of having to share your actual credit card number every time you make an online purchase? Or maybe you're a business owner looking to control employee spending. Whatever your situation, a virtual credit card might be your solution. So what exactly is a virtual credit card? It is a digital version of a physical credit card that you can use for online transactions. Virtual credit cards work like regular credit cards, but they have a unique card number, and you have complete control over how much that card can spend. If someone gets ahold of your virtual credit card number, you can quickly delete it and create a new card.
Why are Virtual Credit Cards useful?
Virtual credit cards are beneficial for sneaker resellers and others who need to make multiple purchases from the same online store. Some online stores limit the number of purchases you can make with a single credit card number, but with a virtual credit card, you can generate a new number for each purchase. Virtual credit cards allow you to bypass those limits and buy as many items as you need. Virtual credit cards are also a great way to control employee spending. You can give each employee their own virtual credit card with a set spending limit and monitor their transactions in real time. A virtual credit card ensures employees can make necessary purchases without exceeding the budget.
Which companies offer Virtual Credit Cards?
If you want a virtual credit card, you're in luck. Several companies offer virtual credit cards, including Capital One, American Express, Citi, Stripe, Divvy, Privacy, and Slash. Some companies provide virtual credit cards as part of their regular products, while others offer standalone virtual credit card services. Consider fees, transaction limits, and security features when choosing a virtual credit card provider. With the right virtual credit card, you can enjoy increased security and control over your online and offline spending.
How can I mass generate Virtual Credit Cards?
If you need to generate virtual credit cards in bulk, use a tool such as AYCD Profile Builder. AYCD Profile Builder offers mass generation, importing, and deletion from many virtual credit card providers. Instead of creating a card manually from each virtual card provider one by one, create as many as you need with just a few clicks. Manage your virtual credit cards across all of your providers in one place. Streamline your workflow with a virtual credit card generation tool.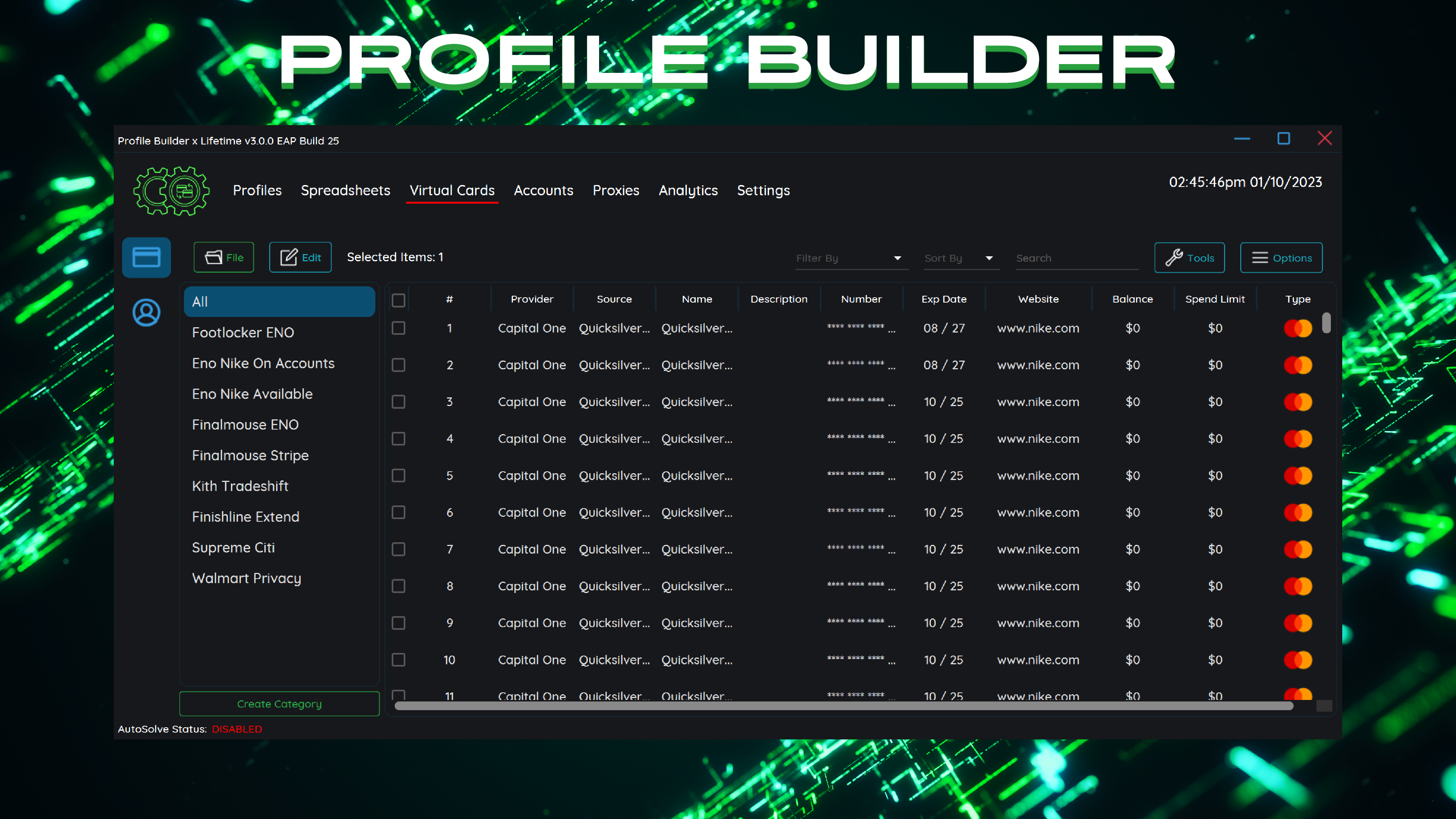 How can I purchase AYCD Profile Builder?
You can purchase AYCD Profile Builder on our website! Profile Builder is one of the many useful tools found in AYCD Toolbox. The first step is to create an account via this link. After completing that, you can purchase a subscription here. Next, read through the guides our team has prepared for you! If you need additional help, please join our support Discord server!
More Content
Learn more about industry trends and AYCD services.