How to Create iCloud Hide My Email Accounts
Last modified: 2023-03-09 01:49:00.0
What are iCloud emails?
iCloud email is an email service provided by Apple that allows users to send and receive emails using their iCloud account. With iCloud email, users get a reliable and secure email service with ample storage, spam filtering, and a user-friendly interface. The service is free for anyone with an Apple ID, and users can access their email from any device, whether it's an iPhone, iPad, Mac, or PC. iCloud email also has features such as calendar integration, contacts syncing, and support for attachments up to 5GB. iCloud is a robust email service that can cater to different needs.
What features does iCloud have?
Compared to other email clients, iCloud email has several benefits that make it stand out. It seamlessly integrates with other Apple services, such as iCloud Drive, Photos, and Notes, allowing users to manage their files and information from a single platform. iCloud email also has excellent privacy and security features, such as two-factor authentication, end-to-end encryption, and the ability to create disposable email addresses, which helps to protect users' privacy and prevent spam. Additionally, iCloud email has a clean and modern interface that is easy to navigate and ideal for personal and business use.
What is iCloud+?
iCloud+ is a premium service offered by Apple that provides additional features to iCloud users, including Hide My Email email accounts. These accounts allow users to create anonymous email addresses that they can use to sign up for websites, services, or newsletters without revealing their real email addresses. With Hide My Email, users can generate as many email addresses as they need, and iCloud will forward all emails sent to these addresses to their iCloud email account. This feature is essential for people who value their privacy or need multiple email addresses for different purposes, such as reselling, raffle botting, sweepstakes entries, and more. iCloud+ also includes features like iCloud Private Relay, which helps to secure users' internet traffic, and HomeKit Secure Video, which provides secure video recordings from HomeKit-enabled cameras.
Which tool can generate iCloud+ Hide My Email accounts?
The best tool for generating iCloud+ emails in bulk is AYCD Profile Builder. AYCD Profile Builder automates the process of creating multiple Hide My Email. All you need to do is add your iCloud+ information and let AYCD Profile Builder handle the rest! Once you have generated the emails you need, you can easily export them in CSV or copy-paste format. iCloud emails are an excellent service for creating unique email addresses that all forward to one address.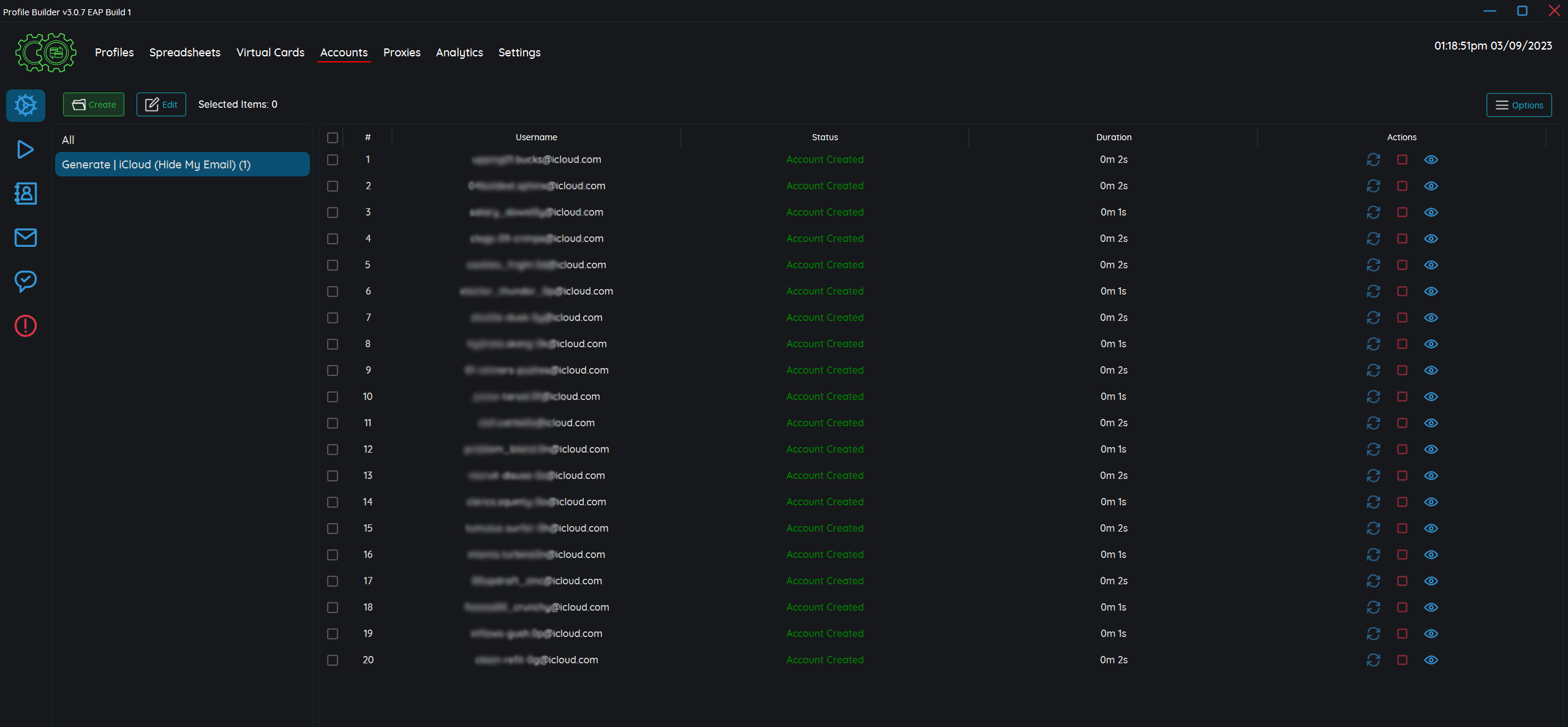 How can I purchase AYCD Profile Builder?
To begin, create an account on our website. Once you've done that, go to the following link to buy AYCD Toolbox. Profile Builder, a crucial tool in the AYCD Toolbox, can help you successfully generate iCloud+ emails in bulk. Next, look at our comprehensive guides to fully utilize Profile Builder. Remember to join our support Discord server after purchasing if you have questions about the setup process.
More Content
Learn more about industry trends and AYCD services.