How to Mass Enter Queues and Raffles with TabSentry
Last modified: 2023-10-23 05:30:00.0
What is TabSentry?
In the rapidly evolving world of digital navigation, browser suites have become an essential tool for enhancing our online experiences. Welcome to TabSentry, the epitome of modern browser suites, tailored to handle every use case you can think of. Whether you frequently go for queue based releases, enter raffles in bulk, or need to manage multiple accounts with unique browser sessions, TabSentry has you covered.
Exploring the Tasks Section
A robust and flexible browser suite is at the core of every great online experience. TabSentry includes multiple browser types, including Google Chrome, Brave, and the exclusive AYCD Custom Browser. However, this is just the tip of the iceberg. TabSentry is engineered for those who want more from their browsers, especially those eying queue-based releases or raffle entries. Whether you're a casual surfer or a power user, TabSentry accommodates your browsing style. You can easily create multiple unique tasks with just a few clicks. Say goodbye to repetitive data entry. TabSentry's built-in Autofill supports any website, offering a swift and error-free experience. Furthermore, its built-in support for profiles, proxies, and accounts makes managing online identities a breeze.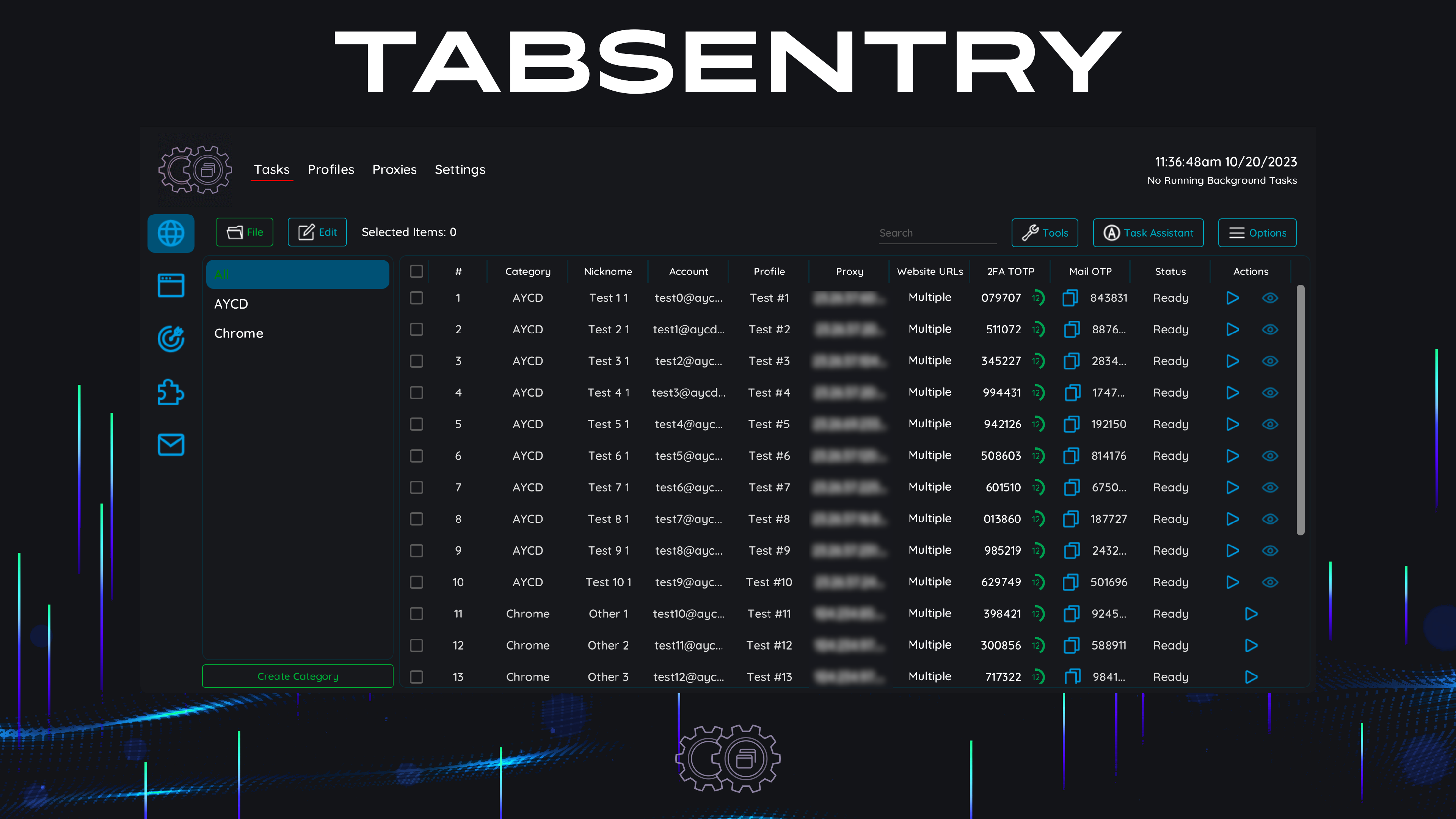 Multi-Browser Control, Features, IMAP, and Extensions
TabSentry includes advanced tools that separate us from the competition. You can control multiple browsers from one parent browser task with Multi-Browser Control. Multi-Browser Control enables you to automate repetitive tasks such as entering raffles, autofilling account details, or mass entering queues.
Further enhancing the user experience is IMAP Integration for instant OTP code retrievals and 2FA TOTP Authenticator support, enabling you to view OTP codes for unlimited Tasks directly in the tableview of the TabSentry UI or through Task Assistant. You can configure Keyboard Shortcuts to autofill your IMAP OTP codes with the press of a button.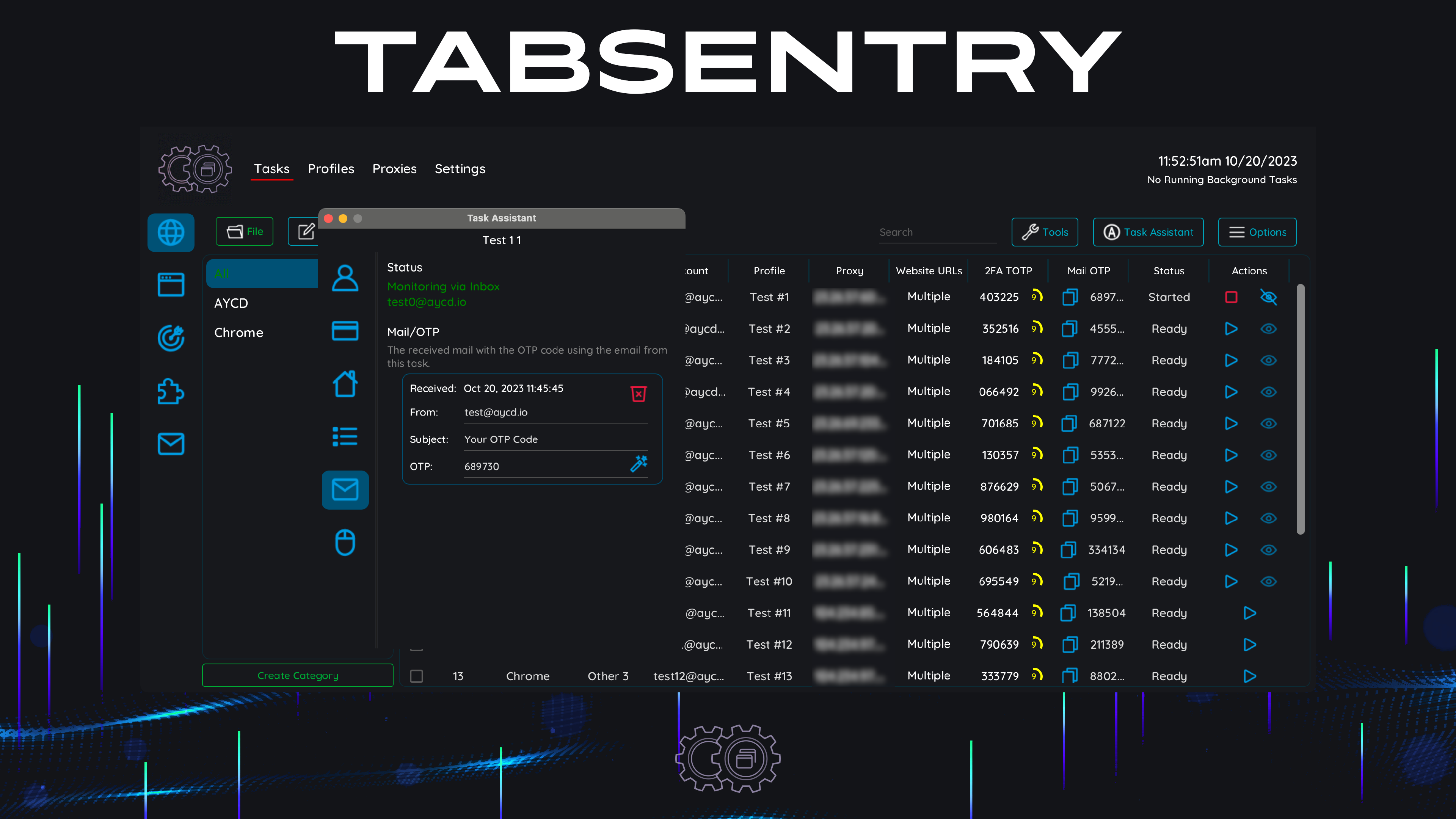 Take advantage of the numerous Features in TabSentry, ranging from Auto Refresh, Monitoring for URL changes, and generating activity across ANY website. Easily configure a ranged interval in seconds to auto-refresh on specific websites or any website. Instantly receive a notification when a URL changes in your browser, so you can be alerted if you pass queue and more. Build trust and automate activity on any website. Choose which URLs you want to use, and TabSentry will generate activity, automatically take breaks, and resume activity generation when finished. Setup once, step back and let TabSentry handle the rest.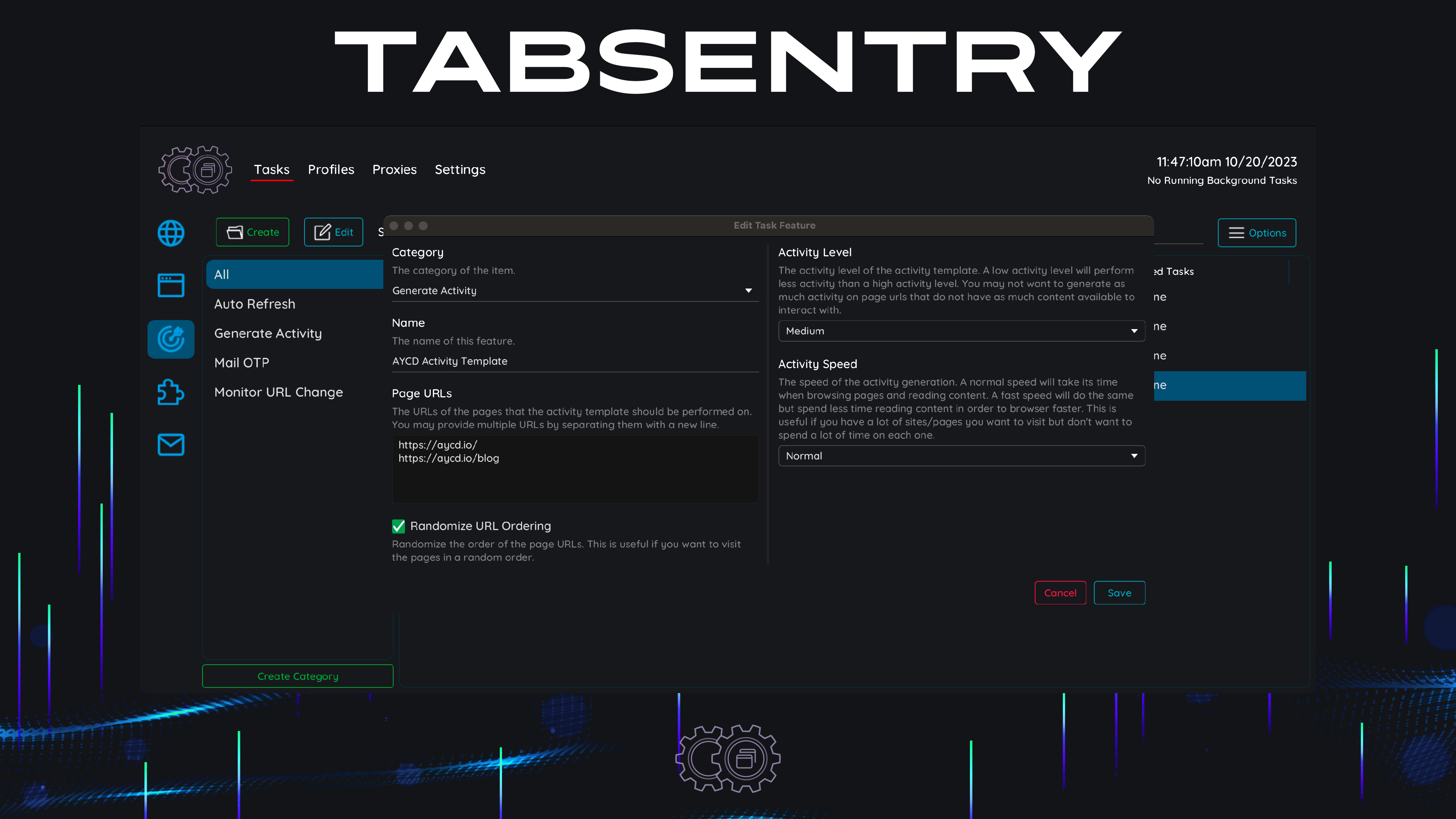 You can easily configure Chrome Extensions on your browser tasks in bulk. Extensions are supported by both Google Chrome and Brave. Quickly copy extension data across multiple browser sessions, streamlining your workflow.
Queue Positions and Tab Management
You can easily monitor queue positions on websites with TabSentry. TabSentry displays your position in queue and estimated wait time across all your browser tabs in one view. Tabsentry enables you to quickly sort by queue time so you can decide which browser tab to focus on. Quickly mass select your tabs across all browsers and close unnecessary tabs with one click.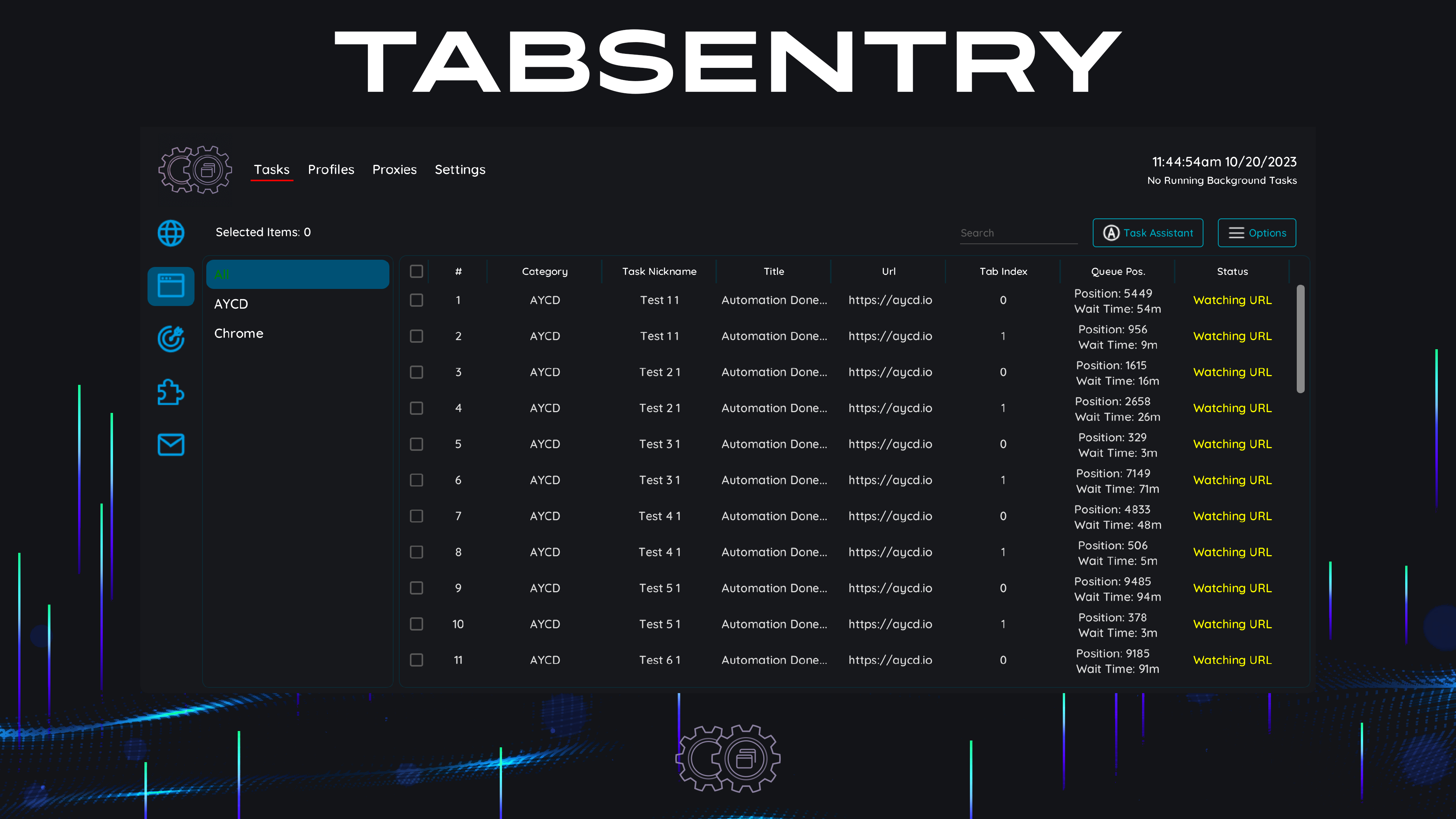 Configure Keyboard Shortcuts
You can configure Keyboard Shortcuts to trigger various actions throughout the program automatically. Ranging from starting task creation, autofilling mail OTP codes, reloading the Tabs within your browser, and more. Customize TabSentry exactly how you desire. You have complete control.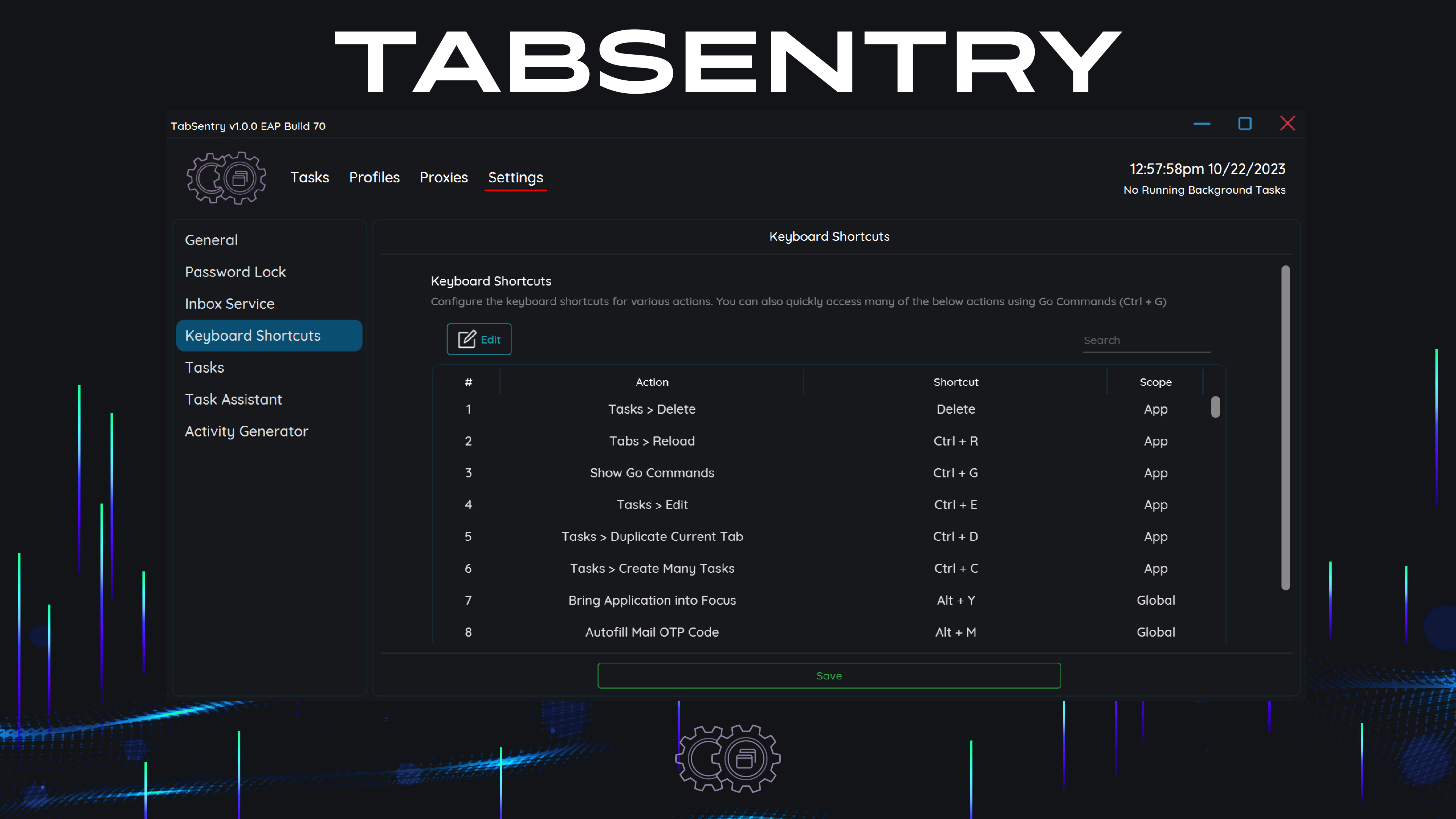 Try TabSentry for FREE Today
TabSentry is more than just a browser suite; it's a testament to the future of online browsing. You can try out TabSentry for free until November 23rd, 2023, by clicking the BUY NOW button at the bottom of this page! Experience the TabSentry difference today and embark on an elevated online journey like never before. Please ensure you read through the detailed TabSentry guides and join our Discord support server to stay updated on new TabSentry features!
More Content
Learn more about industry trends and AYCD services.
How to Install Unpacked Chrome Extensions Manually
Explore our step-by-step guide on manually installing unpacked Chrome extensions and discover how TabSentry's unique browser sessions and advanced features can revolutionize your multi-session online activities.
How to Use the Ultimate Captcha Solving Hub
Discover the power of AutoSolve, AYCD's innovative captcha-solving hub, and learn how it streamlines your online operations by seamlessly integrating with OneClick for unparalleled efficiency and accuracy.